In Memoriam: Charles Yingling, Ph.D., CNIM, D.ABNM
  It is with great sadness that we lost a leading pioneer in intraoperative neuro- monitoring on May 2, 2021, Dr. Charles (Chuck) Yingling. Dr. Yingling's achieve- ments and accomplishments are vast, yet he always found time to give back to every individual by answering phone calls for any IONM/EEG professional needing gui- dance on an IONM technique, delivering invited platform presentations, publishing research articles and serving as a peer reviewer for The Neurodiagnostic Journal. His passion was to expand the field and share his knowledge base to better care for patients.
Please click here to read the full memoriam. 
In Memoriam: John R. Knott, Ph.D.
  Because John Knott touched the personal and professional lives of technologists in so many ways, it seemed impossible for any one person to pay adequate tribute. The current editors of this journal, for which he was co-editor from June 1966 through 1973, have chosen to print tributes from a few of the people moved by him. This group includes his technology students, colleagues in the education of technologists, colleagues in the founding of the Joint Review Committee and of ABRET, Mrs. Ellen Grass, co-authors, and clinical neurophysiologists. John Knott may be physically gone from us but all of us with whom he worked during his more than 50 years in EEG and neurophysiology will always be aware of his spirit present, urging us to use our minds and settle for nothing less than excellence. 
Please click here to read the full obituary.
In Memoriam: Carol Bonar, the Lady Behind the Camera
  Carol was a fixture at ASET conferences. She was appointed as ASET's official Historian and she served in this role for many years. She came to every meeting armed with a camera and tirelessly took photos and videos of conference attendees during all of the events and activities. She was truly the "Lady Behind the Camera"! Of all the photos in the ASET archives, there are very few of Carol since she was always the one taking the pictures! Although most of us knew her best as the ASET photographer, the most important role that she was most proud of, was being an EEG technologist! She worked well into her senior years, reluctant to retire her title as "Grandma Carol" to her EEG patients.
Please click here to read the full obituary.
In Memoriam: Frederic A. Gibbs, M.D.
On October 17, 1992, electroencephalographers lost the "Father of Clinical EEG." Frederic Gibbs did not care about such a title, given to him by many of his colleagues; he cared only about discovering relationships between distinctive EEG patterns and their associated clinical conditions.
Please click here to read the full obiturary.
In Memoriam: Theda Sannit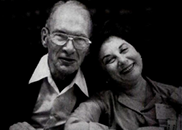 The Neurodiagnostic community has lost one of its leaders, Theda Sannit. Theda was a pioneer in EEG and made critical contributions such as helping to develop the International 10-20 System, but she was first and foremost a dedicated teacher and mentor.
Please click here to read the full obituary.
In Memoriam: Lewis L. Kull
It seems so ironic that in this issue of the American Journal of Electroneurodiagnostic Technology, as we celebrate fifty years of ASET achievements, we must also mourn the loss of Lewis Kull, who was such an integral part of those achievements.
Please click here to read the full obituary.
In Memoriam: Ernst F. L. Niedermeyer
The world-wide neurodiagnostic community lost another of our giants when Dr. Ernst Niedermeyer died this past April after a couple of years of failing health. He was known not only as an outstanding scholar and clinician, but also, he was a regular feature of ASET meetings, mingling very easily with technologists of all levels.
Please click here to read the full obituary.
In Memoriam: Albert Melvin Grass
Father of the Electroencephalograph. Friend and Benefactor of ASET. When the phone rang on May 29th to convey the news of the death of Albert Grass, its ring also signaled the end of an era for ASET members. The professional career of this seemingly indomitable man quite literally encompassed the lifetime of electroencephalography.
Please click here to read the full obituary.
In Memoriam: Kathleen Mears, R. EEG/EP T.

Kathy Mears was a true professional. Just look at the meaning of the word professional in the dictionary. A professional is someone who engages in, or is worthy of, high standards; offers instruction in a profession; a person who does something with great skill. Kathy exemplified the term professional.
Please click here to read the full obituary.
In Memoriam: Erna Leonhardt Gibbs
Erna L. Gibbs, a pioneer in the world of EEG technology and brain re­ search, passed away at her home on July 23, 1987. She was 81. The former Erna Leonhardt emigrated to this country from Germany in 1928. She worked at Harvard University under Dr. William Lennox, the father of epilepsy research. On December 16, 1930, she married Dr. Frederic A. Gibbs.
Please click here to read the full obituary.