ADVOCACY
Forces on the neurodiagnostics profession take place at various levels and in various ways. Critical areas of influence include federal action relating to allied health care funding; state regulation often relating to licensure and scope of practice issues; and regulatory rulings impacting neurodiagnostic technologists and the profession.
ASET maintains a keen interest and proactive approach in addressing legislative and regulatory action through its Governmental Advocacy Committee (GAC), Grassroots Campaign, and the Legislative & Regulatory Action Center. Through ASET's legislative and regulatory tracking service, the GAC regularly monitor and track State and Federal legislative and regulatory activity that may have an impact on neurodiagnostic technologists and the neurodiagnostic profession at large. News and action alerts on pending and proposed state and federal legislation, proposed rules, regulatory changes, and Medicare and Medicaid issues affecting the neurodiagnostic profession are posted on our Neurodiagnostic Legislative & Regulatory Action Center.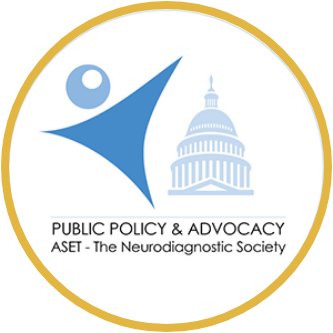 Why You Need to Be Involved
The most effective way of influencing legislation or to ensure your voice is heard on important issues is to communicate your views directly to your respective elected officials. Sending letters, faxes and e-mails; placing telephone calls; and arranging visits with either officials or legislative staff increase the likelihood that attention will be paid to the message being delivered. These activities help educate and inform key decision makers about the neurodiagnostic profession. Constituents play a crucial role in the public process and lawmakers want to hear from you. For a step-by-step guide to building relationships with legislators and their staff, download the Point of Contact Handbook.
Ways to Be Involved
The most effective way to ensure that your representatives are taking the correspondence and messages seriously is to have messages sent from each individual, rather than on behalf of a group, because state and congressional offices track the number of communications received on a daily basis on an issue. Due to terrorism concerns, it is most effective to send your communication via e-mail. You can contact your state and federal legislators via e-mail through our Action Center simply by entering in your zip code and either sending the recommended message(s) or composing your own message.